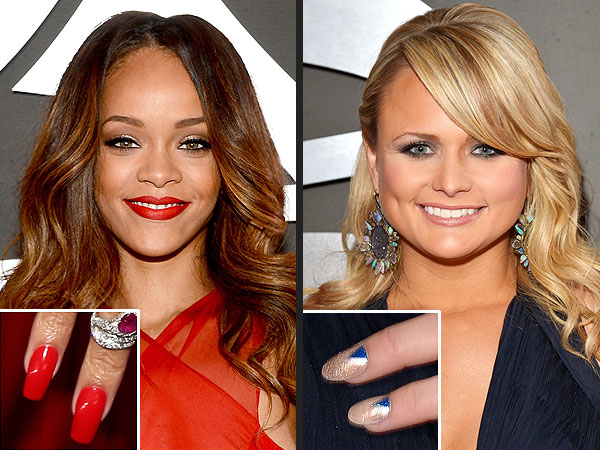 With all the hype of last night's Grammys the nails did not disappoint. I believe they were front and center, as well they should be. You didn't hear Ryan Seacrest asking the celebs about their hair and what product they were wearing. Yes nails really rocked the Grammy's. I had a client text me to turn on E! during the Mani-off. Thanks to Lisa Marie Santos Facebook status update, I was already tuned in. She texted "This can not be bad for biz." With nails being front and center many have taken notice. Women's Wear Daily reports nail polish sales hit a record 768 million in the US in 2012 a 32% over 2011. And there is no sign of it slowing down. As more treatments emerge including pattern nail stickers and textured polishes, gel products continue to be on the rise. Nail polish is the new economic indicator replacing lipstick. The theory goes that as the economy struggles, sales of these small luxury items rise. You may not be able to get that new Mercedes this spring but wow look at all the cool polish you can buy. Social media has also driven the upsurge with sites like Instagram. E! online introduced a "Mani Cam" at the 2012 Emmy awards inviting celebs to walk their manicures down the red carpet and while the gimmick was panned at the time they had two Mani Cams at this years Grammys and a Mani off during the Red carpet countdown. I have to say I was a bit disappointed some of the celeb nail stylists used retail products as opposed to professional. I guess in the end it still is all about moving the industry forward. Don't hate the player hate the game?
So how do we capitalize on this exposure? Ironically enough as it usually happens I got an email with Seth Godin's
blog update
. Seth Godin is a brilliant marketer and change alchemist having written 14 books
The Purple Cow
among his most popular. Godins blog talks about Humanizing our work. In the land of cookie cutter, imitator nail styles you must break free and create your own voice in your own unique work. Godin suggests "To create something that only you could have made, or said, or conceived of." To set yourself apart. With so many new companies emerging and offering so many new opportunities you must still put your creative trademark on your work. The Internet is crammed full of ideas, between Pinterest and YouTube. Let these sights be the spark for creativity and push out your own boundaries. Practice something new, fail if you can and start over creating smarter because of it. Then post, post and post some more. Create Pinterest boards showcasing your work with links back to your website. Tag photos on your Facebook wall so all your clients friends see your work. Send your work into Nailit Magazine, another industry game changer. The nail universe is doing all it can to get this industry exposure, Tap in and enjoy the ride.
The Grammys Beauty Breakdown: Nail Art Edition